Regular price
$30.00 USD
Sale price
$20.00 USD
Unit price
per
Sale
Sold out
GRATITUDE OFFERING!  Enjoy (2) Bottles of our 16oz Versions of Citrus + Fruit Punch.  As always, a Daily capful delivers 100% Daily Value of the entire spectrum of vitamins from A-K, dispensing cap (included).  Take directly as a shot or "boost" your favorite juice or beverage.
Each bottle 16 Daily Shots = 2-Pack is a 32 Day Supply.
Share
View full details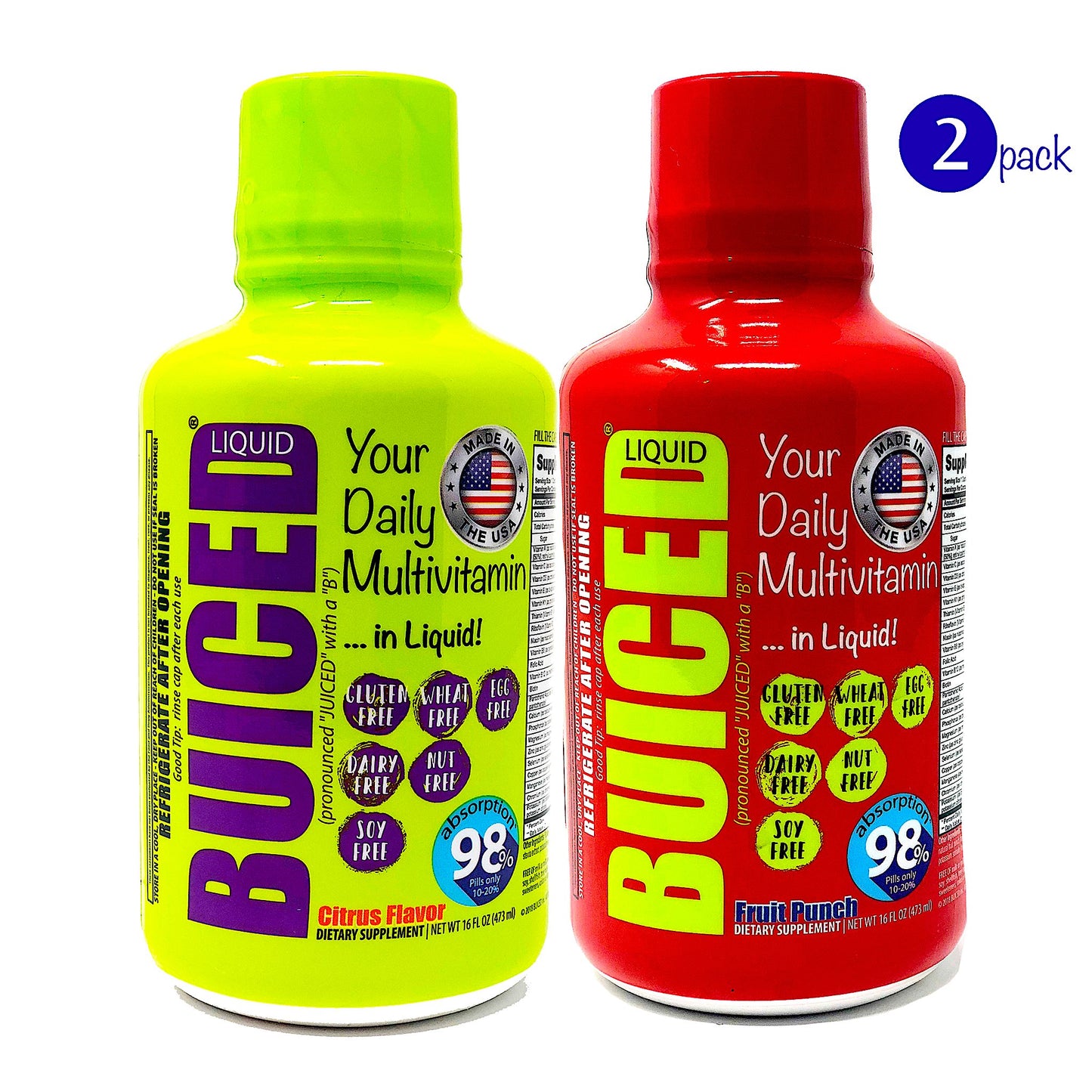 Customer Reviews
07/01/2023
Shahram R.

United States
Great Vitamins
Great, It really works on me.
05/10/2020
Kim S.

United States
Awesome multivitamins!
I got hooked on Buiced liquid multivitamins last year after discovering it at Home Goods of all places. After my supply ran out I purchased a few more bottles on the Buiced website. Prices are very reasonable, shipment quite speedy and the company kept in contact each step along the way. I look forward to trying more quality items on the Buiced website!
02/01/2020
Yalda K.

United States
outstanding product
I absolutely love this product! It has kept me very healthy over the winter and I will continue taking it the rest of my life!!!
02/01/2020
John L.

United States
I'm hooked on BUICED
For years, I've regularly taken multi-vitamin pills. After trying BUICED, I'm hooked. No more hard multi-vitamin pills for me. BUICED seems that it is carefully planned to provide the proper nutrients and designed for quick absorbtion rather than fooling you with claims of 4,000% of the daily recommended nonsense as the pill manufacturers do. I'm certain my kidneys are thanking me as well.
02/01/2020
PENNY B.

United States
I love Gratitude!
These liquid multivitamins are better than any of the thousands I have tried. You actually absorb them. Taste is so-so. But remember no pain no gain. Thank you Buiced!
02/01/2020
Tim H.

United States
Awesome product
I love to get my vitamins this way.